These Boots were made for Walking: Boston Edition
Avon 39 is an amazing event to support breast cancer awareness, research, and support for those women and men living with and battling the disease. Rizzo started walking in the event nine years ago in Washington, DC to honor her Aunt who passed away from breast cancer but also to honor her Mom who lost a battle to cancer. After that first walk in Washington DC, Rizzo decided to walk in a different city each year to complete every city offered by Avon. In that time she has walked in:
Washington DC
San Francisco, CA
Charlotte, NC
Chicago, IL
Rocky Mountains of Colorado (Breckenridge)
Houston, TX
New York, NY, and
Santa Barbara, CA
I've had the pleasure and the privilege to join her starting in Charlotte, NC. This year brings us up to Boston, MA for Rizzo's ninth walk in nine years in nine cities. Over the course of those nine years Rizzo has bought two houses, met and married me (of course that is the best part), had a kid, taught at three schools, found Ellie, walked about 240 miles (in the events alone) and raised over $17,000 for this cause. I'm so proud of what Rizzo has accomplished and how much she has helped so many people.
We arrived in Boston on Friday evening, checked into our airport hotel, then immediately made our way to Event Eve. We were lucky to arrive early and beat the crowds that always overwhelm the event eve location. The crowds and enthusiasm is great but can be hard to handle when you are traveling with a cranky 2-year-old that hasn't had enough sleep and is ready for some dinner. Rizzo checked in, bought a few t-shirts, we took some goofy pictures, the bugged out to get some dinner.
I should make a point of noting that Rizzo walked her first Avon Walk in Washington, DC with her (now our) good friend, Chrissy. To a certain extent it is Chrissy's fault that we travel somewhere every year for the Avon Walk. In what can only be described as a storybook ending, Chrissy has joined Rizzo again in the walk as a nice bookend moment to Rizzo's journey.
We met up with Chrissy and her sister, Jess, at Event Eve and the five of us made our way to the North End for some fine Italian cuisine. In case you didn't already know based upon her name, Rizzo is Italian. She comes from a very Italian family. Her Italian Aunt gave us the recommendation of dining at L'Osteria. So we navigated through the reckless Bostonians (you know there are sidewalks, right? You don't have to walk in the middle of the road) and finally go to the Italian North End.
There are two major things to take way from a dining experience at L'Osteria. (1) The food is delicious so get whatever you want and eat it so fast you don't have a chance to take a picture of any of the food to include on your blog. (2) Our waitress was the most stereotypical Italian-American woman I've ever met and it was outstanding. This waitress was awesome to the extent that if I didn't know other Italian-American women I would think she was acting in order to get better tips. She gave me instructions on how to use the bread to soak up the last bits of my sauce so nothing would go to waste. She was making sure everyone had plenty of wine. We had to get a ½ order of pasta for the baby (her exact words). She told us all about the basil, tomatoes, and mint she was growing in her garden. I watched her giving hugs to other patrons as they left like they were family. I've consumed meals in the homes of many Italian friends and family and this waitress felt and acted like we were dining in her home and not in a restaurant. It was fabulous.
Rizzo was out the door early on Saturday morning to join the walkers as the start. I was disappointed that I wasn't going to the opening ceremony this year but Cece was out and I'd rather miss the start than deal with a cranky 2-year-old all day long. She was a champ and powered through a long day of travel and a late bedtime the night before so she deserved to sleep in as long as she wanted. That is exactly what she did crashing until I decided I had to wake her up at 8:15am which for us is super late, especially after 12-hours of sleep.
Cece and I had some breakfast in the hotel before heading out to meet the walkers and do some cheering. If you haven't had the chance to stay at an Embassy Suites while traveling I'd highly recommend the stay if only for the superior breakfast that is offered compared to other hotels. Embassy Suites offers a made-to-order omelet bar as well as a wide assortment of other breakfast foods including pancakes, waffles, eggs, bacon, sausage, potatoes, cereals, pastries, and more! Cece started saying "pancake" over and over again as we walked into the dining area so that is what she got.
After breakfast we made our way over to the first cheering station of the day which was just outside of Boston Garden in the middle of downtown. It is a beautiful place and should be on anyone's list of places to visit on Boston. The walkers were arriving quickly at the 7 mile marker as we arrived to cheer them on. It wasn't long before Rizzo and Chrissy arrived to give Cece some necklaces, take a few pictures, and then continue on the long route ahead.
Cece and I spent some time in and around the garden after our walker friends continued on in their cause. Cece was especially fond of playing with the ducks. She also had a 2-year-old temper tantrum when a puppy she was playing with had to leave to continue his walk. It was also chilly over the weekend so I had to stop into the most expensive children's clothing store in America to get Cece a sweater because we forgot to pack her anything with long sleeves. At least it is cute and it is big enough that she can wear it for a long time.
After Rizzo was done with her many, many miles on Saturday she hung out in the hotel room while Cece took a nap and I hit the streets for relaxing run in Boston. I'm finding the more I run the more I enjoy running in cities and towns we visit to see the local buildings and parks. Even though we were staying in a hotel right by the airport there was a park and trails to take right across the street. While I was out running I got to enjoy the view of Boston Harbor, live music at a street festival, watching dogs running obstacles in a dog park, and some kids playing softball. It was overcast and misting on and off so the weather was perfect and the views were enjoyable.
After a quick shower Rizzo, Cece, and I made our way to a suburb of town to enjoy a meal with friends of Rizzo from college. The meal of pulled pork and chicken tacos was glorious and perfectly enjoyed sitting outside in the wonderful Boston weather. Rizzo and I stopped by a local wine shop to pick up a local malted beverage to share. We inquired if the wine shop sold any Virginia wine and the answer was yes, but only Barboursville Vineyard. The tacos and timing spent with friend was the perfect ending to the perfect day in Boston.
Sunday morning started much like Saturday; Rizzo snuck out early to take an Uber to the start line while we let Cece sleep. Our plan for the day was for Cece and me to hang out at the hotel, get in some play time, and hopefully get Cece and early nap before meeting Rizzo and Chrissy at the finish line to celebrate another job well done. Cece woke up pretty early compared to the day before but in plenty of time for us to get downstairs and enjoy another lovely breakfast. After breakfast Cece and I made our way to the nearby park to pass the time before naps and celebrations.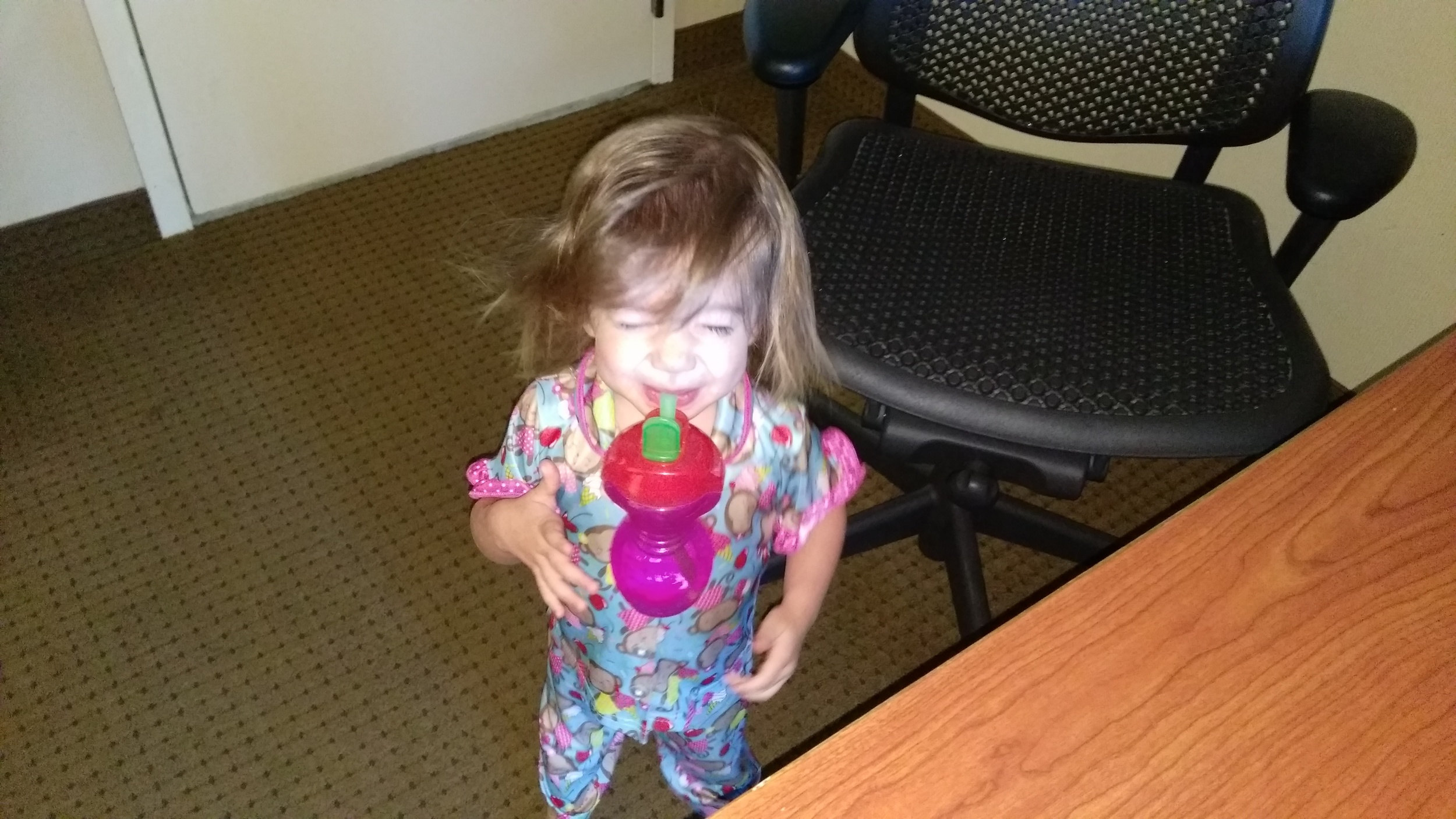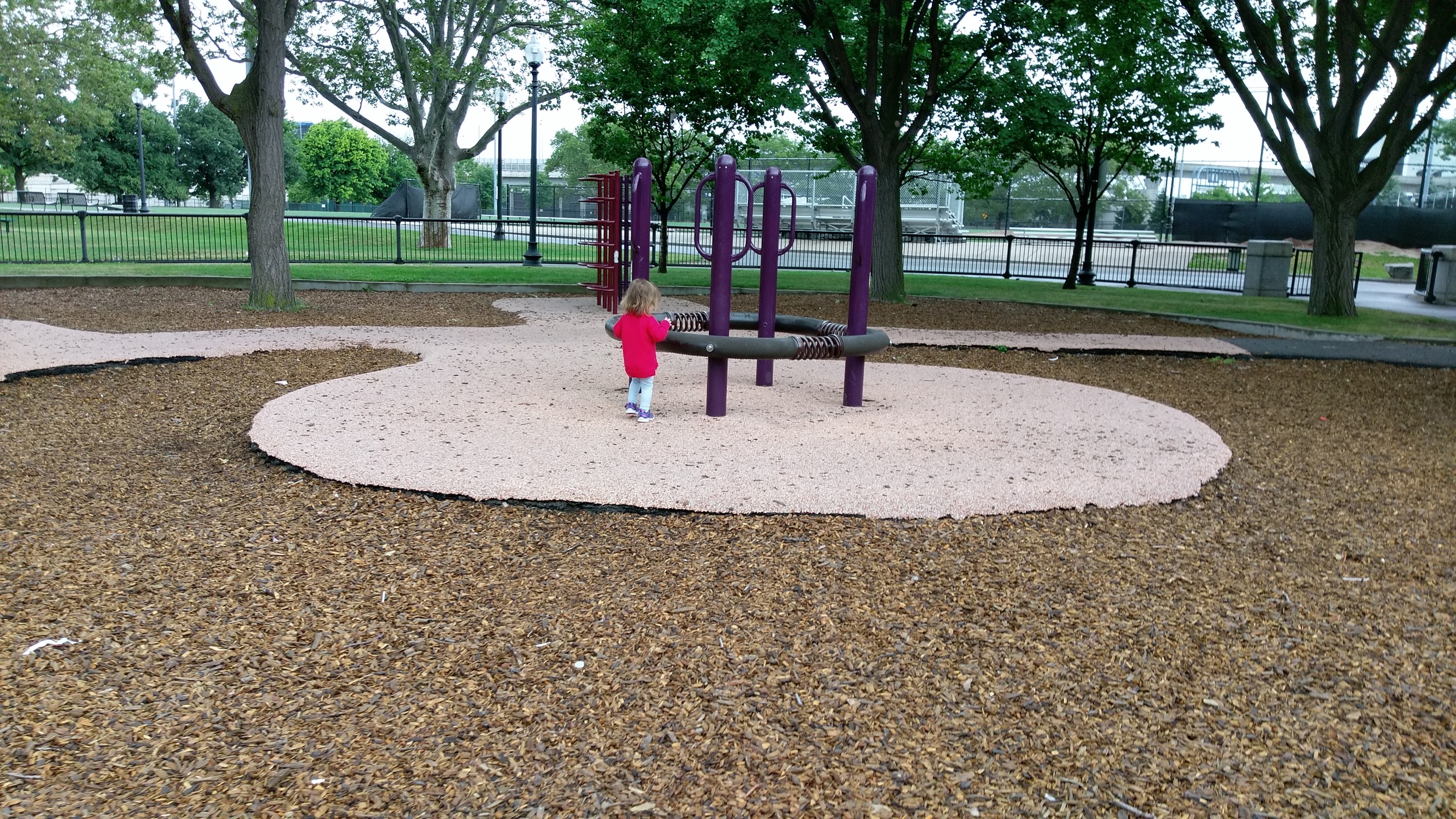 It had rained the night before so most of the park was very wet. Cece would run up to a piece of playground equipment shouting "paygound" but as soon as she would get to it she would stop and just say "wet". Luckily, Cece made a new friend named Gina. Gina was almost five years old and very talkative. The first words from Gina to Cece were, "My daddy has a towel if you need him to wipe off anything". It was a very nice offer and Cece made sure to take advantage getting swings and seesaws wiped clean for playtime. Gina and Cece became best friends fast and a good time was had by all.
After our playtime and naptime Cece and I made our way to the finish line to meet Rizzo and Chrissy. It was a very eventful atmosphere. This was the first time in my seven years of going to the walk (I can't believe it has been seven years) that there was a live band playing for the walkers! It was amazing! Cece and I clapped and cheered as the walkers made their way across the finish line. Everyone was exhausted, sore, and filled with excitement. I saw people crying and laughing and cheering. Lots of money was raised for a worthy cause and every step helped to make a difference in the life of someone living with this awful disease. It was another successful year and bitter sweet. Rizzo met her goal. She walked in all nine cities in nine years. We will have to wait and see for her next adventure. Congratulations Rizzo. Congratulations to all the walkers. Thank you.